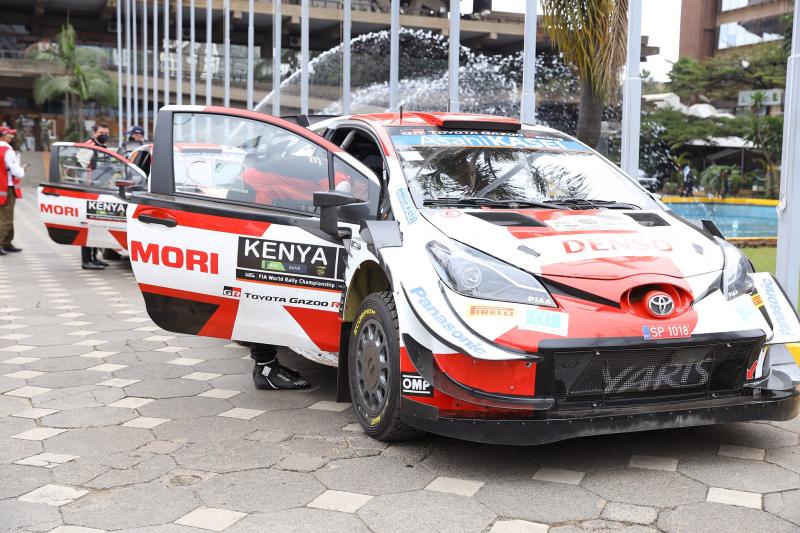 2021, June 25
Toyota Yaris WRC to face another 'new' challenge on Africa's return
The TOYOTA GAZOO Racing World Rally Team is getting ready to take on the epic challenge of the Safari Rally in Kenya on June 24-27 as the iconic event returns to the FIA World Rally Championship for the first time in almost 20 years. The rally marks a debut on the African continent for the Toyota Yaris WRC, which currently leads both the manufacturers' and drivers' championships after winning four of the first five rounds of 2021.
Although it last featured in the WRC in 2002, the Safari Rally has a legendary status in motorsport. Historically, the rally featured incredibly long stages on roads that were still open to the public but, for its comeback, it will run on closed roads with a format similar to other modern WRC rounds. Still, the expectation is for a demanding event over rough and rocky tracks, with the possibility for heavy rain to transform the dry and dusty surface into deep mud. Adding to the challenge is the fact that the regulations prohibit testing outside of Europe, with Toyota instead using a recent test in Spain to try to prepare as well as possible for what's to come in Kenya.
The rally will start on Thursday lunchtime from the capital city Nairobi, with a nearby super special in Kasarani to kick-off the competitive action. The rest of the event takes place nearer to the service park on the shores of Lake Naivasha, around 100 kilometres to the north-west. Friday is made up of three stages to the south of the lake all run twice, before a move further north on Saturday to roads around Lake Elmenteita for another trio of repeated tests. The rally ends on Sunday with a total of five stages around Naivasha.
Rallying in Africa will be a new challenge for all of the team's drivers including seven-time world champion Sébastien Ogier, who leads the championship by 11 points over his team-mate Elfyn Evans after winning the last round in Sardinia. Sixth in the points is the team's youngest driver Kalle Rovanperä, while Takamoto Katsuta will once again be in action in a fourth Yaris WRC as part of the TGR WRC Challenge Program.
Quotes:
Jari-Matti Latvala (Team Principal)
"It is fantastic to have the Safari Rally and Kenya returning to the WRC. The rally is going to be very different to how it was previously, when they were driving on open roads and using helicopters to warn the crews about oncoming traffic, but we are still expecting to face some new challenges. The Safari used to be the most difficult event in the WRC, and although we don't know exactly how the roads are going to be, we need to prepare for it to be a very hard rally that will be very tough for the cars. It's new territory for us as a team and for all of the current drivers and it's very exciting."
Sébastien Ogier (Driver car 1)
I am always excited to discover a new challenge in my career, and I believe this rally will be very different from anything I have done before. We've heard a lot that we are going to have to set our targets a little differently: The way we drive nowadays in the WRC is by really pushing the limits all of the time, but when we go to Kenya it will be much more about trying to survive the rally without trouble. I think it can be interesting to have a challenge like this during the year. It has been hard to know what is the right way to prepare, so I think the drivers will probably have to adapt a bit during the rally, but the recce will certainly be important to understand what is ahead of us."
Elfyn Evans (Driver car 33)
"Obviously, Kenya is a big unknown as none of the current drivers have been there to do an event before. Of course, I've seen a lot of the classic footage from the past and it all looks very spectacular. It's not going to be exactly the same this time, as we'll have a more controlled loop of stages, but I am nonetheless excited to go there and rally in a completely different environment. I suspect it's not going to be the smoothest event on the calendar, and it could be a big test for the car and maybe for the crew as well. From what we've seen it's quite an open landscape, so reading the road could be quite difficult, but until we get out there and have a look for ourselves on the recce, it's very hard to judge what the biggest challenges will be."
Kalle Rovanperä (Driver car 69)
"Kenya is going to be really interesting. It's a new event for everybody and at the same time it's also a really classic event from the past. The WRC was last there in the early 2000s when my father was competing, and I've seen all the old videos from then and he has been telling a lot of stories. Rallying as a sport is quite different now, so it's going to be interesting to see how we will do those stages with the cars that we have these days. We know that it's not exactly the same concept – we won't drive such long stages, for instance – but it will still be nice to see if the conditions will be just as rough and as tricky in some places. Everything is going to be different but I'm excited for it."
End of day one (Thursday):
1 Sébastien Ogier/Julien Ingrassia (Toyota Yaris WRC) 3m21.5s
2 Kalle Rovanperä/Jonne Halttunen (Toyota Yaris WRC) +0.3s
3 Elfyn Evans/Scott Martin (Toyota Yaris WRC) +0.7s
4 Ott Tänak/Martin Järveoja (Hyundai i20 Coupe WRC) +2.5s
5 Thierry Neuville/Martijn Wydaeghe (Hyundai i20 Coupe WRC) +5.0s
4 Takamoto Katsuta/Dan Barritt (Toyota Yaris WRC) +5.6s
9 Gus Greensmith/Chris Patterson (Ford Fiesta WRC) +6.1s
8 Oliver Solberg/Aaron Johnston (Hyundai i20 Coupe WRC) +7.9s
9 Lorenzo Bertelli/Simone Scattolin (Ford Fiesta WRC) +9.0s
10 Adrien Fourmaux/Renaud Jamoul (Ford Fiesta WRC) +9.6s
(Results as of 15:00 on Thursday, for the latest results please visit www.wrc.com)


End of day three (Saturday):
1 Thierry Neuville/Martijn Wydaeghe (Hyundai i20 Coupe WRC) 2h45m04.6s
2 Takamoto Katsuta/Dan Barritt (Toyota Yaris WRC) +57.4s
3 Sébastien Ogier/Julien Ingrassia (Toyota Yaris WRC) +1m15.5s
4 Ott Tänak/Martin Järveoja (Hyundai i20 Coupe WRC) +2m21.2s
5 Gus Greensmith/Chris Patterson (Ford Fiesta WRC) +2m39.4s
6 Adrien Fourmaux/Renaud Jamoul (Ford Fiesta WRC) +2m51.4s
7 Kalle Rovanperä/Jonne Halttunen (Toyota Yaris WRC) +11m04.3s
8 Onkar Rai/Drew Sturrock (Volkswagen Polo GTI R5) +25m59.1s
9 Karan Patel/Tauseef Khan (Ford Fiesta R5) +31m31.8s
10 Carl Tundo/Tim Jessop (Volkswagen Polo GTI R5) +33m26.0s
12 Elfyn Evans/Scott Martin (Toyota Yaris WRC) +50m08.2s
(Results as of 18:30 on Saturday, for the latest results please visit www.wrc.com)
Back to the list