Second Overall as TOYOTA GAZOO Racing Fights to the End of Dakar 2021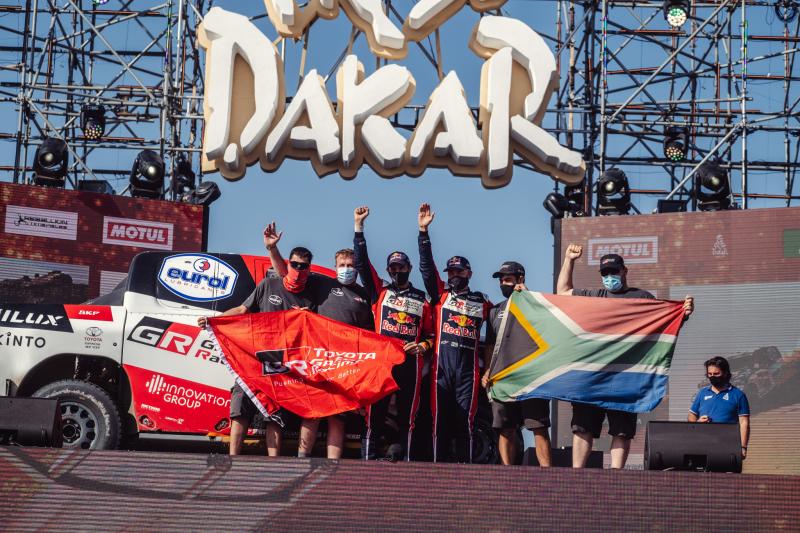 2021, January 19
TOYOTA GAZOO Racing has claimed 6 stage victories on the Dakar 2021.




The Toyota Hilux of the TOYOTA GAZOO Racing Team wins the 4WD category.




At the end of the last stage, Nasser Al-Attiyah finished less than 14 minutes from the winner.

TOYOTA GAZOO Racing's Nasser Al-Attiyah and navigator Mathieu Baumel finished Dakar 2021 in second place overall, after completing the final 200 kilometre-long stage from Yanbu to Jeddah. The pair trailed rally winner Stéphane Peterhansel by 13min 51sec after twelve competitive stages with a total timed race distance of 4,400 kilometres. Giniel de Villiers and Alex Haro completed the final stage in 10th place, after suffering one mid-stage puncture and losing time due to navigation. They brought their Toyota Hilux home in eighth place overall, 3hr 57min 39sec behind the winner. A finish was the target for Shameer Variawa and Dennis Murphy, after the driver's failed attempt at Dakar 2019. They finished this year's event in 21st position, and recorded a number of highly competitive stage results during the rally. Over the course of Dakar 2021, Nasser and Mathieu recorded five stage victories and a further stage win by Giniel and Alex. In total, Toyota Hilux entries topped eight out of the 12 stages.

Akio Toyoda: "Thank you to all the teams who boldly challenged the harsh course of over 7,000 kilometers and congratulations to everyone who completed the race safely.
Congratulations to all TEAM LAND CRUISER TOYOTA AUTO BODY team members for their eighth straight victory following the one-two of last year.
Congratulations to Car No.1 Miura san and Laurent for winning the championship. After the disappointment of last year for the crew, I was very impressed with their strong comeback this year.
Congratulations to Car No. 2 Ronald and Jean who participated in the class for the first time and finished in 2nd place!
Thank you for bringing the Land Cruiser home safely to the end.
In HINO TEAM SUGAWARA of Sugawara san, Somemiya san and Mochizuki san, Congratulations on winning the class and a 12th consecutive victory.
I was worried about the severe roll in the desert on Stage 3, but I would like to express my respect and gratitude to all the team members who overcame the challenges as a team and continued their efforts to aim for an "ever-better truck" year after year. Thank you so much for the team's efforts.
I would also like to congratulate to Nasser and Mathieu for taking on the challenge in the Hilux, finishing second overall.
It's a pity that they were in second place until the end of but couldn't make a comeback. But I think it's a wonderful result because they never gave up and continued to trust their partners, the team and people who supported them. Thank you so much.
I think this year's Dakar is very unique. Under the cloud of the Coronavirus pandemic, everyone involved had to do everything they could to prepare for the unknown.
Organizers have also worked hard to prepare for the event so that the world's toughest rally will not be extinguished. We would like to express our sincere gratitude to the ASOs , local organisers, and all the teams who participated in this year's event.
I think it was a very significant day for the automobile industry to be able to compete at a rally held under such challenging circumstances. Taking advantage of this experience, we at Toyota will continue our efforts to make ever-better cars.
We're grateful to all the fans who support us and we appreciate your continued support. Thank you very much to all our fans everywhere."

Glyn Hall, Team Principal: "Firstly, I would like to express my heartfelt condolences on behalf of the entire TOYOTA GAZOO Racing Dakar team to the family and friends of Pierre Cherpin, who sadly passed away after suffering a crash on his bike earlier in the race. His death is a sad reminder of the dangers we face as racing drivers and navigators, but his spirit lives on in the crews who continue to fight for victory and adventure on races such as Dakar.
For us, this year's race brough the joys of many stage wins, both for TOYOTA GAZOO Racing and Toyota as a brand. I'm extremely proud of everything we achieved here this year, and cannot thank Nasser and Mathieu enough for their fighting spirit and tenacity. The same goes for Giniel and Alex, as well as Shameer and Dennis, who never gave up the fight and continually pushed the limits of their own endurance and that of our tough Toyota Hilux. We may not have won the race, but we fought valiantly, and I'm proud of the team."

Nasser Al-Attiyah (No. 301): "This is a fantastic result for us, with the Toyota Hilux winning the four-wheel-drive category again. I'm really proud of the team and would like to thank the entire TOYOTA GAZOO Racing team for the hard work they've put in to make this a reality."

Giniel de Villiers (No. 304): "Dakar 2021 was really a little disappointing for us. Nothing seemed to go right from the start. We had a total of 24 punctures, including a last one today, and we had a few issues with navigation during the race. We also had a broken side shaft on one occasion, so a lot of time lost. It was a difficult rally, but it's always a good feeling to finish a Dakar. We never give up, and we have a strong car in the Hilux. Nasser showed that with his five stage wins, and we picked up a nice stage win, too. I'd like to congratulate Stéphane on his 14th Dakar win, his 8th in the car category – a tremendous achievement. For us, we'll come back fighting again next year."

Shameer Variawa (No. 330): "It hasn't really sunk in yet. Twelve days of racing and it has been up and down. We had issues at the start but we overcame that and kept on pushing and pushing. And here we are at the end of the rally, even though we had one more puncture on the final stage. It's a great feeling to finish the Dakar on my second attempt. And this time it was with TOYOTA GAZOO Racing, which makes it even better."
Back to the list