World best-seller for 26 years!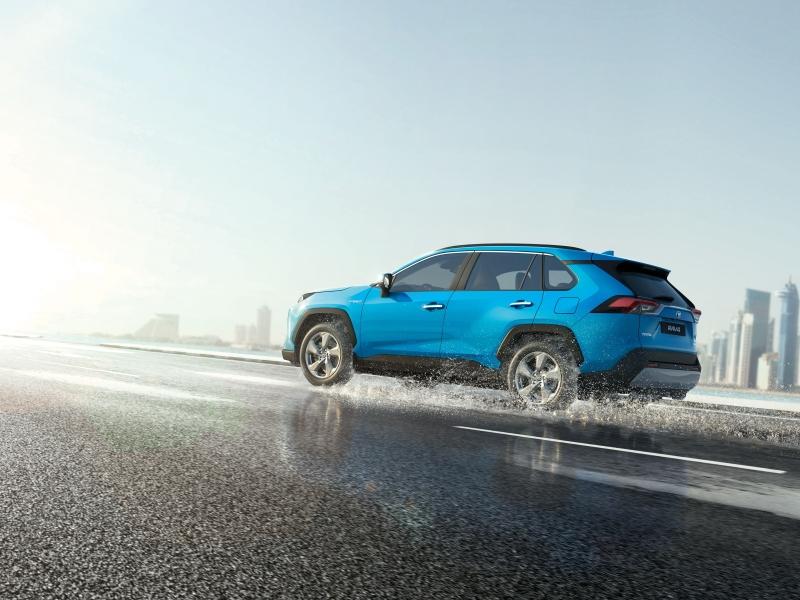 2020, May 19
When the first generation RAV4 was revealed at the Geneva Motor Show in March 1994, few could have anticipated how this bold new concept in motoring would reshape the automotive marketplace. As well as pioneering a new type of vehicle, it would embrace new technologies and create a whole new market for compact, agile and versatile SUVs ideally suited to modern life.
RAV4 paved the way for a whole new SUV segment that has not stopped growing since: more than a quarter of a century on from its debut, RAV4 was the world's best-selling SUV in 2018 and 2019, and in 2019 was the fourth best-selling passenger car overall. Toyota's policy of constant improvement in line with the changing tastes and demands of motorists has ensured the RAV4 continues to set standards for quality, performance and practicality.
The beginning
The ideas behind the RAV4 (Recreational Active Vehicle with 4-wheel drive) were first expressed in the RAV-FOUR concept car at the 1989 Tokyo Motor Show, indicating Toyota's interest in creating a compact all-wheel drive model.
Sales started in Japan in May 1994, followed by Europe, Africa, Australia and Latin America the following month. Its North American debut came in January 1996.
New concept, new challenges
The Chief Engineer for the RAV4 project, Masakatsu Nonaka, found that it wasn't easy to convince other Toyota departments that a new mass-production car should be created to be sold in a market segment that didn't yet exist.
Toyota's Japanese and European sales divisions, being in close contact with market, believed the time was right for this type of car. Together they put the project back on track, and they were proven right: very soon after the RAV4's launch it was being widely acclaimed as a new trendsetter.
TOYOTA RAV4: FIVE GENERATIONS OF INNOVATION AND ACHIEVEMENT
First generation, 1994 – 2000
The RAV4 made its debut in 1994. In its original form it was a three-door model with compact proportions, measuring just 3.69m long. It offers contained proportions, a permanent 4x4 system, a monocoque body and a high driving position. In 1996 the range was expanded to include a five-door version (measuring 4.1m long) and the option of (front) two-wheel drive.
Second generation, 2000 – 2006
Constructed on a new platform, both three and five-door versions were slightly longer - +5.5 and +4cm respectively. Two petrol engines were offered: 123 DIN hp 1.8-litre and 150 DIN hp 2.0-litre units. The full-time AWD adopted a centre limited-slip differential. In 2001, diesel power was offered in the RAV4 for the first time, a 2.0-litre D-4D direct injection unit with 116 DIN hp.
Third generation, 2006 – 2012
The three-door body style was discontinued and the five-door grew significantly in size. The new model measured 19cm longer overall. Engine choice was extended as well, with petrol units, plus a new diesel. The model also marked the debut of a new Toyota all-wheel drive system with an electronically controlled coupling that operated automatically. The RAV4's handling capabilities were further developed with the first application of Downhill Assist Control and Hill-start Assist Control.
Fourth generation, 2013 – 2018
Toyota adopt a standard wheelbase for all world markets, with the vehicle's length growing again, by 23.5cm. More advanced AWD technology was introduced with the new intelligent Dynamic Torque Control system, and the addition of two new functions: cornering control and a sport driving mode.
In 2016, the RAV4 underwent its most radical development yet, with the introduction of the first full hybrid electric version.
Fifth generation, 2018 to date
The fifth generation was the first SUV to be built on a Toyota New Global Architecture platform. New Dynamic Force 2.5-liter engine delivers high output and world-class combustion efficiency owing to the introduction of components such as VVT-iE, while the 2.0-liter engine achieves at thermal efficiency of 40% and balances fuel efficiency with throttle response.
Back to the list