HILUX | the pick up made by Toyota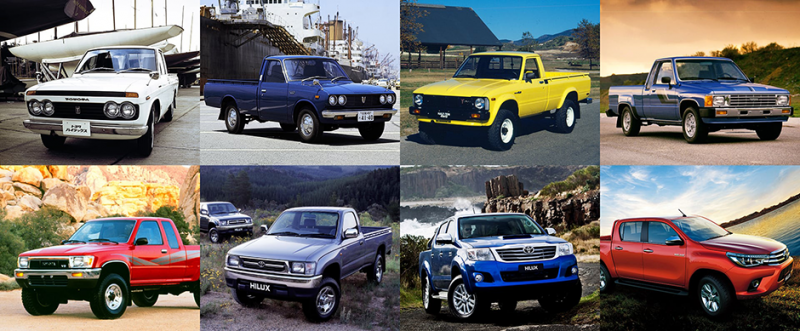 2020, August 26
The history of the Toyota Hilux spans eight generations. During that time this pick-up has earned a reputation as the most reliable commercial vehicle in its class.. With its track record in competition (Dakar ...), it has nothing more to prove about its resistance to extreme conditions. It is the most popular "domestic Toyota" on the African continent, which has been produced in South African Toyota factory in Durban, since 1970 and now locally assembled at AVA Mombasa in Kenya since 2019.
1st Generation (1968―1972)
The Hilux debuted in March 1968. The vehicle was conceived by Toyota, and was developed and manufactured by Hino Motors, Ltd. at its Hamura Plant. It was equipped with a 1.5 L engine with a 4 speed manual transmission. The first-generation Hilux could hold up to 3 occupants.
2nd Generation (1972―1978)
Second generation Hilux launched in 1972 and was dubbed the 'highway' model. With new design features, extra safety features including break assistance and a three-speed automatic was introduced.
3rd Generation (1978―1983)
The third generation Hilux was introduced which included three standard length models and four long body models. The new models offered sedan-like specifications and equipment as well as ride comfort. Toyota introduced a new top-of-the-line variant, which comes with a larger interior space. In October 1981, Toyota debuted a double-cab Hilux with two rows of seats. The third-gen Hilux saw the introduction of the four-wheel drive variants.
4th Generation (1983―1988)
The fourth model Hilux came with a renewed exterior and interior design. Engine choices had by this time grown to four, with two petrol and two diesel powerplants. Single- and double-cab versions were also available, and the total number of model variations increased from 17 to 20.
5th Generation (1988―1997)
The fifth-generation Hilux that came out in September 1988 represented the three basic concepts of power, sturdiness, and comfort. To enhance its functionality as a multi-purpose vehicle the interior equipment was further upgraded.
6th Generation (1997―2004)
This sixth generation Hilux launched in September 1997. It has two body types that were designed for business use truck line or personal use. It was available in either two-wheel-drive or four-wheel-drive.
7th Generation (2004―2015)
With the 7th Generation Hilux the sales spread over 140 countries. Inheriting its rugged styling from the sixth-generation model, it offered improved comfort, and both the ride comfort of a passenger vehicle and the convenience of an SUV.
8th Generation (2015―Now)
The eight-generation Hilux is introduced in May 2015. Toyota said that this Hilux is designed to deliver improved ride comfort and safety. It also has an enhanced off-road performance due to the upgraded leaf spring suspension and shock absorbers.
Click below to check now our available models :

Back to the list